Shipwrecks
Shipwrecks
Details
Type
Locations
Location
Ocean
Shipwrecks are Uncharted sunken Ships of old that can contain various sunken Resources and Treasure. Shipwrecks appear randomly in set locations of the Open Seas.
A large flock of Seagulls flying above a particular area indicates a shipwreck is below (a small flock signifies that Barrels are floating in the water below).
Sometimes a portion of the Shipwreck is visible above the water surface, although there are many wrecks that are below the surface.
Shipwrecks often contain a large variety of Supplies and 1 to 5 pieces of random Treasure. Each Shipwreck has a large number of Barrels that can contain virtually every Resource, including Meat and Fish of different types. Some Wooden Planks and Fruit usually float on the mid-deck and lower-deck as well. It is possible to find up to 5 different pieces of Treasure in a single Shipwreck. Shipwrecks can spawn every piece of Treasure with the exception of Box of Wondrous Secrets and Chest of Legends. They can also spawn Supply Crates, Mermaid Gems and Gunpowder Barrels. The Treasure Chests found in Shipwrecks spawn Shipwrecked versions, which are worth the same amount, but count towards the Hoarder of Barnacled Gold Commendation.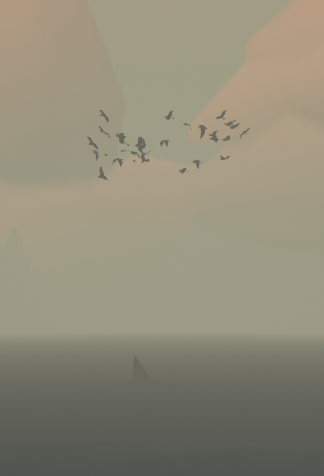 Shipwrecks spawn at random locations, but their names are taken from a list. These are the currently-known Shipwreck names:
The Wreck of the Blessing of Athena
The Wreck of the Bloody Death
The Wreck of the Cursed Dawn
The Wreck of the Damned Hydra
The Wreck of the Devil's Rage
The Wreck of the Feared Dragon
The Wreck of the Flying Hell
The Wreck of the Forsaken Serpent
The Wreck of the Foul Eel
The Wreck of the Hangman's Hate
The Wreck of the Hellborn Mermaid
The Wreck of the Howling Beast
The Wreck of the Liar's Fortune
The Wreck of the Marauder's Revenge
The Wreck of the Siren's Gale
The Wreck of Szami's Undead Galleon
The Wreck of the Wrath of Hades
The Wreck of the Morningstar
The Wreck of the Magpie's Wing
The Wreck of the Magpie's Fortune
Unnamed wrecks encountered in The Seabound Soul
While collisions with most stationary objects usually cause Ship damage, colliding with a Shipwreck currently does not cause damage.
Currently, shipwrecks found in Devil's Roar may yield Ashen loot.
Wreckers can be caught with a Fishing Rod and Earthworms at shipwrecks