Clouds
There are various Clouds that can form across Sea of Thieves.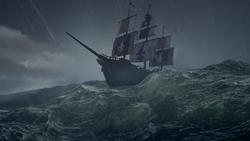 There is a Storm always present in The Sea of Thieves. The Storm clouds form a gigantic gray mass with visible lightning inside, moving around in a straight direction across the three main Regions. Storm Clouds are not dependent on Wind.
There are also individual Clouds forming different shapes that announce the presence of an active World Event within The Sea of Thieves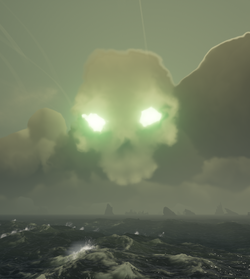 The Skeleton Fort Cloud, sometimes called Skull Fort Cloud is a giant gray Skull-shaped Cloud with thundering Green eyes. These Clouds indicate the presence of an active Skeleton Fort World Event at a Fortress Island. The closer Players get to the Island, the larger the cloud gets.
An active Fort of the Damned (Raid) is also signified by a giant Skull cloud, with the main difference being the deep-red eyes and the larger size of the Cloud.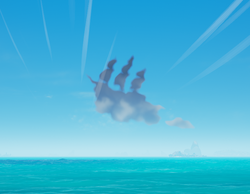 An active Skeleton Fleet World Event is indicated by a giant gray Ship-shaped Cloud with green thunder. Like with the Fort Cloud, these clouds also get larger the closer a Player is to them. Skeleton Fort and Fleet clouds are mutually exclusive and cannot be active at the same time.